Are We Praying The Truth About You And Your Marriage?
Hi, friend. Compliments of this wonderful season of sharing love. God gave us His best gift in Jesus Christ, through whom we are transformed from helpless, undeserving sinners to victors and heirs of the Kingdom of God.
I'm also announcing my own gift to you here. It's my new eBook that is bound reposition praying women to pray confidently. The eBook is a result of my indepth prayer experience. It cost me dearly to publish it but I will give it to you for free. More on this later.
I'm interceding more this week for the miraculous change of your husband before the New Year. Remember, it took God only six days to remake the world (Genesis 1:2), so your own matter is very little before God. Believe!
Very Serious Matters From The Last Edition.
I apologize for the delay in publishing this edition. I have been on a prayer retreat as is usual for me at this time of the year. I was also heavily involved in the 5-day Shiloh Encounter of the Living Faith Church. It was awesome.
So many responses came to me from the last edition of the 'Help Me In Prayer!'
To refresh your memory, I had stated that if you did not give true and honest report about the questions I asked, then you have contributed to the delay in the change of your husband in answer to our prayers.
Some women re-confirmed the information they sent as true and complete. Others corrected the ones they sent earlier. Quite a number did nothing; I assume not affected.
You see, I'm not insisting you tell me everything true about yourself, if you are not persuaded. As a matter of fact, I do request these information from only those that have asked me to be their prayer partners.
Even at that, I understand the thinking of those who withhold information. People are careful in giving personal details because some of these information often get shared with outsiders for one motive or the other. Sometimes, certain websites or emails are infiltrated or hacked by unscrupulous people, and personal information get stolen.
If any of those are your concerns, I think you have the right to be sure of what happens to your personal information when you release them.
---
Your Personal Information Is Safe With Me.
Nevertheless, with all sense of responsibility, I do not think those concerns apply to us here.
•This is a ministry called to heal your marriage, not to embarrass you. We strive to be a permanent blessing to everyone that comes to us.
• All personal information are under my personal custody and responsibility. I do not seek to gain or trade your information for fame or gain (perhaps that's why you should regularly support us financially!).
• Your information is not known outside you and I. If it gets out, you probably released it, not me.
• My website and emails are as secure as can be. We are hosted by a world premium server domiciled in Canada. More so, your info does not sit on the server for long: I transfer it to a secure offline disk storage where they cannot be hacked. Once your prayer is answered, I delete your case.
---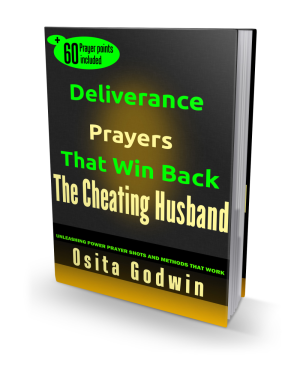 Unleasing Power Prayer Shots For Maximum Impact.
The Whole Truth Is So Important In Intercessory Prayers.
As I said earlier, your true information is a must if you want me to succeed as your prayer partner. I do not need make-up characters or fiction in prayer because your life and marriage is not a movie script.
Strictly, I use real names in prayers because they work. Jesus used them too, remember "Lazarus, come forth!" (John 11:43). Do you know what could have happened if Jesus was calling 'Abel' because that's what He thought was the name?
I will give you an illustration. Imagine your real name is Rebecca but you gave me Josephine; your husband's real name is Stephen but you gave Gideon. My prayer will be something like this: "Father, God, I pray for your mercy upon the marriage of Josephine and Gideon and ask for …" What!
Honestly, that prayer is unlikely to succeed because we are dealing with the things of the spirit, and there's no room for deception. We are not acting a movie here but doing serious spiritual business.
The same honesty is required when I ask if you are born again, if you ever cheated on him etc. You'll have to be 100% honest if we are to pray successfully.
Still Want To Keep Your True Details…And Win In Prayer?
There is another way for those who still feel insecure sending their true personal details. Your prayers can still be answered if you:
• Find a prayer partner you can trust with your details to enable them be on point in prayers. Remember to ensure the rules of prayer partnership as I have counseled in the previous editions. (If you didn't receive it, ask me).
•Pray alone, but use the real names and instances as I have explained. Praying alone is a hard way to pray but it is better than praying with fake names and aliases.
This Is How I Use Your Information.
Overtime, I have found that it is uncomplicated and effective to pray with correct details of people. I mention real names of people and plead their cases for mercy, grace, intervention or enforcement.
Some women have sent me some pictures of thmselves and their husbands as points of contact. I bring them up on my computer screen at the hour of prayer and pray, command, declare, prophesy or cover as appropriate. I tell you, it works like fire. When I receive victory report from the women, I delete their pictures from my disk.
The conclusion of this is that if you have given me any detail that is less than the whole truth, then you can still correct them so that we pray more meaningfully.
---
Free.
This eBook Will Give You A Power Voice In Prayer For The Soul Of Your Husband.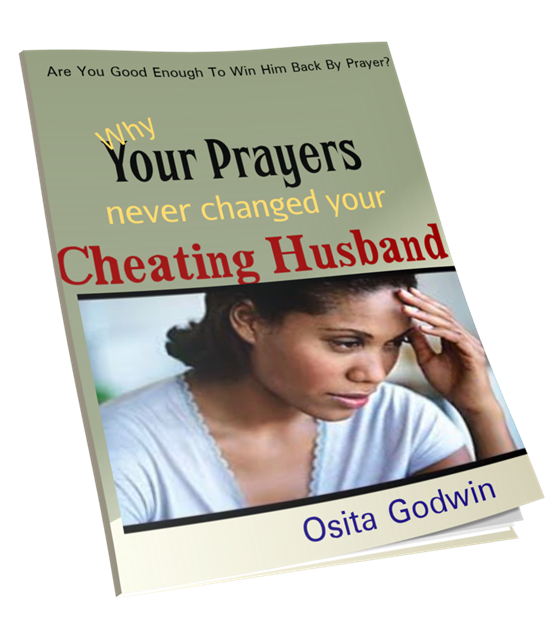 God impressed it on me to publish this eBook and give it to you for free at this season. I perceive it's for certain people who need a change of position in prayers for a change of story.

 

It's a new, life-changing book, and you are the first to get it. It's free but we shall give it first to those who already have the 'Deliverance Prayers That Win Back The Cheating Husband' because the two books will work better together.

 

So, if you ordered that eBook, send me a note to this email: prayerebook@marriednation.com and I will send you a link for your free download. We are in the period of giving! God will give you an answer of peace in your marriage.

  Take this eBook as another gift from Jesus at Christmas; it will change your life. &nbsp

Merry Xmas.
---
Let's Continue This On Our FaceBook Page.
I invite you to like Praying For My Husband. We do share some other deep thoughts on how to pray for your husband there.
---
Support Us To Help You And Others The More?
I appreciate many of you who have sent us your financial support to help the work of the ministry here. Certainly, you have made our task easier. Our prayer for you is for God to intervene and send you help quickly in Jesus Name. Amen!.  

If you are led to send us an offering, I'll be grateful. You could use the Donation Window at the top right of our website to sow financial seed to this ministry.

 

You may also contact me directly via confidential@marriednation.com for any clarifications.

 

You shall succeed.

  

Osita.