Using Prayer Partnership To Change The Adamant Cheating Husband.
Matt 18:19 "Again I say unto you, That if two of you shall agree on earth as touching any thing that they shall ask, it shall be done for them of my Father which is in heaven.".
Hi friends, it's a pleasure to share with you another spiritual prayer secret that could end your worries over your husband's unfaithfulness.
I'm an ardent lover of the wild life – how animals strive and survive in their natural habitat. Particularly, I'm thrilled by the methods and manners of the predators amongst them – how they seek, pursue, overcome and consume their prey.
The cats, particularly the lion, is a no non-sense hunter that goes after all other beasts, even the bigger and stronger animals – and often wins them, having their flesh for family menu.
I have watched the lion bring down stronger wild lords like the Rhino or Buffalo among others.
How do they do it?
The lion hardly hunt alone! The winning power of the lion is in joint, partnership, effort. On the other hand, the prey often defends alone. That's always their undoing.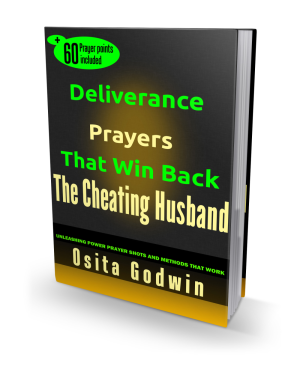 Unleasing Power Prayer Shots For Maximum Impact.
You Are Not Strong Enough To Beat The Spirit Of Cheating In Your Husband.
Eccl 4:9 "Two are better than one; because they have a good reward for their labour..".
Fighting the battles of husband infidelity alone is not usually a wise decision. No single lion can bring down a Rhino or a Bull. Without organized prayer and counseling plan, the cheating husband will never change. Indeed the overall plan of the cheating spirit, to devastate your marriage, will manifest.
This is why God packaged prayer partnership as an ancient weapon of victory, powerfully set against the husband's unfaithfulness. As you know, nothing can ever be alright in a marriage where a partner is cheating on the spouse.
---
The Choice Of A Prayer Partner.
The prayer partner is one who labors with (or for) you in prayers over a particular objective. The prayer partners may physically pray together or separated, but must be in unity of spirit and faith. Here, in this project, we are up against the spirits and attitudes of the cheating and lying husband.
The wrong choice of a prayer partner could frustrate and hurt you. Many have unknowingly handed over their cases over to the enemy in their desperation of seeking a prayer partner. At best, these unwise choices, which also masquerade as counselors, are usually busy doing nothing (or the wrong thing)while the cheater spirit wrecks more havoc unchallenged.
I will show you tested methods of proving prayer partnerships that work.
---
Who Is Your Prayer Partner?
In the area of prayer (and in many things too), any principle you don't apply correctly will not benefit you. That is to say it will not end well, or go as expected. That is why we must grow in understanding.
1. Your prayer partner should be a fellow Christian, possibly at the same (or more but never less) spiritual level than you.
2. Your prayer partner is someone who is passionate about your personal wellbeing and marriage success. This person should be a sincere person, working in the Spirit, with proof of the knowledge of the word of God.
3. The Partner should be a person you are comfortable to disclose personal issues, fears, marital challenges and spiritual weakness. You must not be in doubt of his/her integrity in the use of the information shared.
4. The two of you must agree and work in harmony (Amos 3:3). You should have reverence for the person and take counsel.
---
Practices That Guarantee Victory In Prayer Partnership.
1. If you are praying physically together, know the time and venue of the prayers and be punctual.
2. Revelation, feelings, developments, dreams and concerns should be shared to enable partner gauge and refresh your prayers.
3. Ensure some sort of material offering pass from you to your partner. It is a spiritual pump which is not dependent on the success of your prayers. This could be anything, small or big. The significance is that you are working a covenant. (Matthew 10:41; I Corinthians 9:11).
4. If you ever lose respect for your partner for any reason, stop the prayers and seek whom you agree with.
5. It is not unusual to have several praying partners but you should all be praying same thing. If you don't know what some partners are praying for you, or if they are praying something different, it may be your tower of babel and lead nowhere. To get things going well, send partners specific prayer to them and agree bible-based prayers before you pray.
We Are Set To Pray With You Over Your Cheating Husband.
If you read this, God has sent us your way to help you break the shame of immorality and cheating in your husband. You can take the step to contact by mail to confidential@marriednation.com. We can partner with you until you have your cheating husband changed to decency, faithfulness and commitment to your marriage success. God has been faithful and this project has over 93% victorious prayer cases.
Presently, we have several thousands of wives on our list from 63 countries, and God is bringing more wives with burdens of husbands' infidelity to us for prayer intervention.
Join Us On FaceBook
I would be glad to have you visit and like our Facebook page Praying For My Husband77. We also share some resources there from time to time.
We Need Your Support.
This Prayer Project is completely free for any one we pray with or counsel. We have never asked anybody money for the prayers but we welcome the financial support of anyone who has been blessed in any way by this ministry. Surely, the prayers have been a blessing to so many women beyond what money can get.
The Prayer Project is full-time and intensive but supported by people who believe in the work and are moved by the Holy Spirit to reach out to us.
Now, our numbers are really rising and the work load is enormous. I need you to support this divine Project by sending us your financial seed. Please do this if you are led by the Spirit, otherwise there is no obligation. If you are led to reach out to us, send me a mail and I will inform you how you may send your seed of love.
God will surely reward you.
You shall succeed.
Osita.