How To Get The Best From Our Prayer Partnership (1)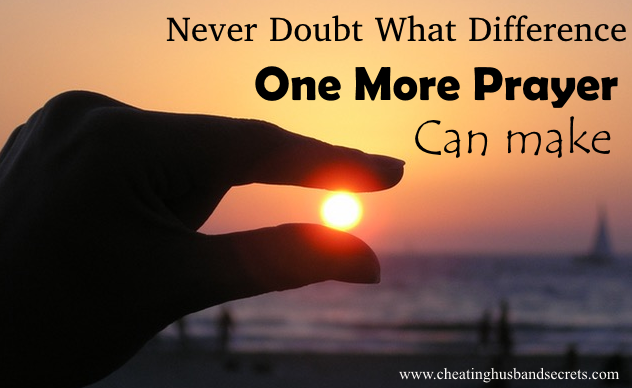 "…I will rejoice in the LORD, I will joy in the God of my salvation. The LORD God is my strength, and he will make my feet like hinds' feet, and he will make me to walk upon mine high places."


(Habakkuk 3:18-19)      

I want to wish you a merry christmas and very, very lovely 2017 with your husband and entire family. Notwithstanding your present experience and struggles, it shall be so for you. Do you know how many days it took God to transform the entire world? Six days! Can you compare that to your own situation? What you desire shall be fulfilled real soon.

  

Though your heart may be heavy because of the challenge of your husband and marriage, yet the grace of God is with you. I want to encourage you to enjoy this season. Yes, the joy of the Lord is your strength. Joy is a fruit of the Spirit (Galatians 5:22). That means that circumstances don't control it.

  

I often have people new to Help Me In Prayer! tell me they have been praying for their cheating husbands and marriage for years without much to show for their efforts. I feel bad when I hear such predicament because I know prayer is not supposed to be weak. That experience could demoralize the once-zealous praying woman. Even the scripture said the "hope delayed makes the heart sick (weak)" Proverbs 13:12.

  

A fruitless prayer experience makes prayer seem like a game of chance. But prayer is powerful all the time changing persons and situations.

  

Two major things could be responsible for not getting your desire over those years:

  

1. You did not do the right prayers. I will always emphasize this point because it is the so crucial.

"And this is the confidence that we have in him, that if we ask any thing according to his will, he hears us" (1John 5:14)


  

2. You did not pray the right prayers sufficiently. No matter how great the prayer points, they cannot pray themselves, but there is need for patience.

"For you have need of patience, that, after you have done the will of God, you might receive the promise." (Hebrew 10:36)


  

So when you come over to us in this prayer partnership, we have a mindset completely based on the Word of God and the Call of our Ministry. We do not examine your prayers before you got here. All my efforts and faith is to give you a resounding prayer experience within the shortest possible time with me.

  

In Help Me In Prayer! we start with the seven day foundation prayers to shake things up and announce a new order in the spirit. Things must happen, first in the spirit, and boil over to the physical. If you didn't notice what happened in your 7-day start-off prayers, it is because you were not sensitive. It is impossible for a child of God to pray to God, the Father, in the name of Jesus and nothing happens.

  

Let me tell the usual things that happen within, or immediately after, those seven days.

  

• The enemy is usually uncomfortable and react by fighting back.

  

• The enemy may be keep silent and pretend not to be there.

  

• The enemy is intimidated and may just leave.

  

Whatever the case, prayers don't end after the seven days. The 21 days prayers should immediately take over and be completed.

  

The 21 days are the real challenge both to you and the enemy of your marriage. To you, it may seem monotonous and boring (that's why some want to change prayer points more often). To the enemy, the heat of your prayers start to build up against him. So he fights back, tough and rough. Their goal is to slow you down or stop you altogether. They aim to break your spirit and body, they throw everything at you. Their reaction is a good sign: it proves that our prayers are hitting the right places.

  

If you are getting too many attacks so that it makes your concentration in prayers hard, or drains your physical stamina, plead the Blood of Jesus:

  

"In the name of Jesus, I plead the Blood of Jesus against you demon spirits. I cover myself and my family with the Blood of Jesus for the hedge of protection. Evil arrows shall never get to us again. I forbid you demonic spirits around me and I turn back your evil arrows. You shall not appear in my sleep or in my waking again. I release the Blood of Jesus to fight you and destroy your works and weapons of harassment. I release the power in the name of Jesus and His Blood to fight any person behind your moves against me and my family. You shall not speak anything to my hearing because I will never hear your manipulative voice again. Anytime you think of me, Jesus will appear and defeat you. I make this decree in Jesus name!"


  

I want you to note that there should be no gaps between the 21 day prayers. You will pray when you are supposed to pray. Before the end of the 21 days, get the fresh prayers you are going to do when the current session is over.

  

Remember that I will be doing those prayers (and more) for you from here. The battle has been decided in your favor, we are just declaring where we stand in the matter:

"You shall also decree a thing, and it shall be established for you: and the light shall shine on your ways."


(Job 22:28)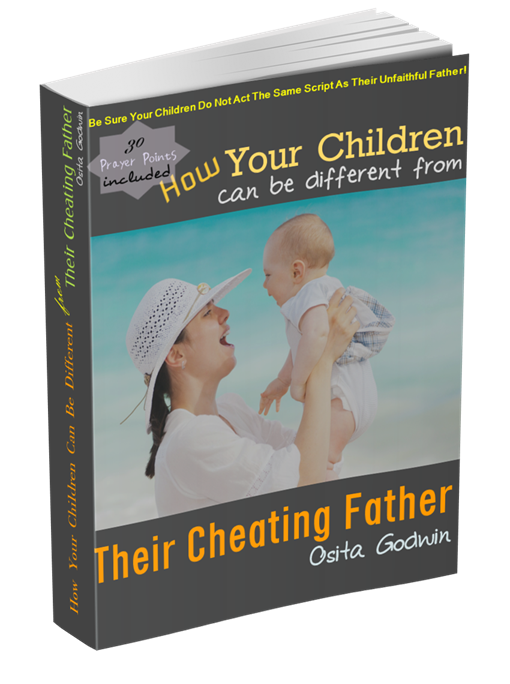 See the Contents of This Life Changing eBook .
---
How To Ensure The Changes In Your Husband Goes From Good To Great.
The physical changes could be any of these:   

• He Swings forth-and-back. He will look good today, but before you could breathe down, he has gone back to cheating again. You can't trust him to sustain the change because you've been down that road several times before.

  

• He is making gradual progress in good change. The problem is that he's too slow at it. You wonder when he will be completely free from lust, lying and adultery.

  

• All, or most of the change, comes in a big bang. This is the dream of every wife, but many still think that 'something' other than our prayers are responsible for his sudden turn around. So, they are afraid to accept the change as genuine.

  

When any of those happen, you can pin it down and draw more positive changes by doing these.

  

1. Give thanks to God profusely. The secret to having the completely changed husband and marriage is to appreciate the little changes you see per time(Luke 17: 15-19). Spend time giving God the glory.

  

2. Continue the prayers. If certain prayer points are achieving, don't stop; suck out every jot of power from it until we review and refresh.

  

3. Send your offering. The offering you give is much more than money passing hands, it is a spiritual connection to the grace of God in the Minister He used. It is a spiritual transaction according to the blessings of God in your life. (2Corinthians 8:12)
When There Has Not Been Any Change In Your Husband.
If you have prayed the three prayer points (for 21 days) and NOTHING has changed in you, your husband and marriage, then there is something we are overlooking. That thing could be unknown. Or it could be known but not obeyed by you.
If it is unknown, we (you and I) would have to do more worship than prayers. Usually, God reveals secrets in intense worship. He may drop the secrets into our hearts, or He may reveal them through other means: physical promptings or flashback of memory.
It is more difficult to deal with the known but not obeyed. It is only you that will know the instruction or scripture you find difficult to obey. If you decide not to mention it, we will not make much progress but remain at the same spot.
---
The Upcoming Prayer Partnership Arrangement
We are still praying towards the new prayer arrangement. Our prayer is for the full mind of God to be at work in the whole set-up. We are asking God to reveal those among us that will add prayer value in the arrangement. Our prayer time seeking God's face for this arrangement is Wednesdays and Saturdays by 12 noon. You may join us in the prayers from your location. God bless you.
The idea is to assign additional prayer partner(s) from among youselves. This will encourage deeper and committed prayers, as well as sharing testimonies. However, counsel between you and your prayer partner(s) will be discouraged, except cleared by me. This is for proper spiritual guidance so that people are not misguided or led into error.
The arrangement will be guided by some comprehensive rules, but note these for now:
1. Only those who indicate interest and register for it would be matched with prayer partners. The others may continue with the present arrangement
2. You would have a choice of who your partner should be and her location.
3. You would have the right to discontinue with a prayer partner, or have her replaced.
4. There would be independent regular feedback to me by all assigned prayer partners.
5. I would still continue to be your chief prayer partner, praying for you as appropriate.
We will like to know any suggestions or questions you may on this arrangement.
You shall succeed.
Osita.
---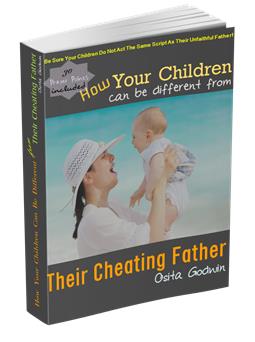 Unleasing Power Prayer Shots For Maximum Impact.
---
Let's Continue This On Our FaceBook Page.
Click here for our Facebook Page! And Like it!.
---