How To Pray And Make The Cheating Husband Stop
No other force can make the cheating husband stop like prayer, but there's a process that makes it work for everyone. Does your prayers for your husband's infidelity not working? I will show you something in this piece that will help you to change that stubborn old story of your cheating husband.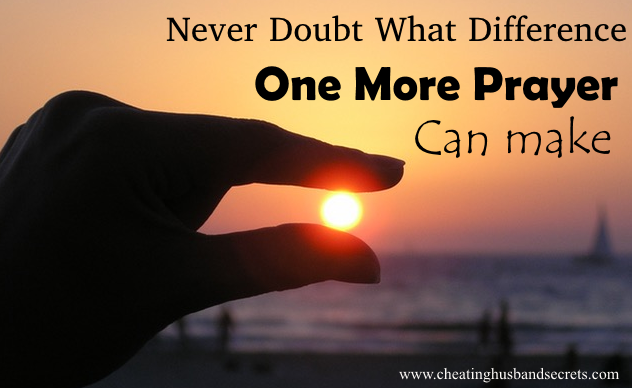 Prayer will fail if we pray anything other than the right prayer points. Don't just pray what you think you want, it often won't work. Pray from your Bible; it is a prayer bank, filled with about-to-explode prayer points on every aspect of human interest and needs. That's what God wants you to pray for, and He is committed to answering them.
To get these prayers that make your cheating husband stop, search your Bible meticulously or look them up from the eBook Deliverance Prayers That Win Back The Cheating Husband. There are 77 targeted prayer points that so many women have used to break their husbands' affairs, send the strange woman away and win their husbands back. You do these powerful prayers privately, or have me pray with you from here.
Sample Prayer That Can Make Your Cheating Husband Stop.
In some cases, the prayer points may be excellent but may seem rather too short or brief. It means you have to develop it to pray it exhaustively so as to release all its power. Here, I'm giving a sample prayer from the eBook Deliverance Prayers That Win Back The Cheating Husband. You can pray this one as it is, or you can apply same method to other prayers in that eBook (you should be praying three prayer points at any given time).
This prayer point is no 45 in the prayer eBook; I suggest you pray it for 15 minutes.
"Everyone contesting my husband with me, fail and be frustrated in Jesus name."    (Isaiah 50:7, Isaiah 8:10)
Now see how I developed that Prayer Point fully...
"Father, I thank you for my marriage to my husband Mr.... I appreciate the privilege of being married to a wonderful man like him. Thank you, my Father, in Jesus name.
Note: (Give God thanks for His blessings on your family so far. The thanksgiving includes life and health, children, properties and every other good thing you can think of).
Father, I come to You to intervene and recover my husband Mr…. and restore our marriage from the unclean spirits, immoral attitude and strange women who have enticed and confused my husband and are aiming to destroy our marriage. Father, these forces have no respect for the covenant of marriage and so caused my husband to cheat me and betray our marriage.
Lord, in the name of Jesus, defeat their motives, plans, activities and scatter all their plans and schemes. Father, release Your battle angels to their locations and defeat them for me but recover my husband to return to me so that my marriage will be restored.
I pray, in the name of Jesus, against their methods and devices and I ask that every diabolic or fetish methods of operation against me, my husband and our marriage, be rendered powereless. Though they are proud, and flaunt their hold on my husband for all to see, but my God, you are stronger than them. Father, break the grip of the strange woman and her helpers release my husband by your mighty power.
Note: (I suggest you pray in the Spirit (other tongues) here for few minutes)
Father, by your spirit, make my cheating husband stop, erase whatever impressions they stamped on the heart of my husband. Wipe away the taste of immorality and memory of their sinful lives that captivates my husband.
Lord, as you deliver my husband and marriage from their evil schemes, protect us from their attacks, and other evil encroachment into our marriage. Help us also to stop arguments, disagreements and fault-finding in our marriage.
(Pray in the Spirit here for few minutes)
Oh God, I ask you to renew the heart of my husband to love me only, to faithfulness and commitment to our marriage without immoral distraction.
Father, I also pray for grace to sustain us in unity, to communicate as one, to love selflessly and to share our thoughts and feelings.
Thank you, Lord, for I believe your power is working out my desires and I receive my husband and marriage back  in Jesus name. Amen"
For that prayer point, this prayer is enough. But it has to be prayed on and on until you don't have to read it (Galatians 6:9). The prayer should be spilling from your spirit even in your dreams. And soon, in a few weeks, you will see the power of prayers in making your cheating husband stop.
Let Us Hear From You On This
If you have something to say on the power of prayer to destroy spiritual stronghold of lying and cheating, share it. I'm sure there's a lot of people out there who will learn one or two things from your story or suggestion.
What Other Visitors Have Said
Click below to see contributions from other visitors to this page...