Pray To Break The Hold Of The Other Woman.
There are three things that could happen when you are praying to break the hold of the other woman over him. The first one is that your husband breaks the affair when you pray. That is, the Holy Spirit troubles his mind and conscience until he regrets his immoral affair, and move away.
Positive Thinking, Pleading, Silent Treatment, Confrontation And Fights Cannot Change The Cheating And Lying Husband.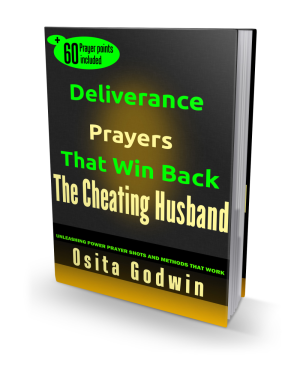 How To Pray, When To Pray, How To Pray...

The second is when the Holy Spirit gets to his lover and inflicts her with deep remorse and discontent over their affair so that she backs off.
The third is that both situations happen at the same time and results in a clean break off of the affair.
So, from the time the Holy Spirit gives you the prayer points from the Bible, you become a miracle change agent and anything is possible. One thing is sure, you'll get what you ask for which is to break the hold of the other woman over him.
3 Saboteurs Of Prayers to Break the Hold Of The Other Woman.
Prayer, victorious prayer, is not hard at all. What is challenging is putting together all the winning parts that take you to your destination. But once you know and put it to use successfully, you can repeat and get happy results always.
However, you need to get three things resolved before you pray against your husband's affair with his lover. If these are not taken care of, prayer becomes a religious obligation as against an active change tool for your situation. Take note of these three things.

1.      If you are not married to him, then he's not your husband and you do not have a right to enforce the one flesh covenant (Matthew 19:6) on him. This is so true that there is no other nice way of saying it.
2.      If your life is not exactly clean and right, then you cannot in all sincerity expect this prayer to get the job done (2 Corinthians 10:6). If you are not sure of yourself here, don't despair because I will give you a sample prayer that could put you on the right track to effective prayer life from today.
3.     If you are not praying the right prayers, you'll still not arrive even if you get all other things right. Prayer is a package; all things should be right for it to fly. If you pray as commanded, you receive your answers as promised.
How To Be Free From The Prayer Saboteurs.
I will show you how you can take-out those three spoilers. If you take them serious, you can release your husband from the hold of that woman quickly.
1.      Be sure he's your husband. This is so simple, I can't believe I'm even saying it to you. However, don't deceive yourself if he's not because you can't claim what is not yours. If he's a live-in lover or boyfriend, stop right here.
2.      If your lifestyle is not right, or you're not sure, you need some cleansing by confession and by the Blood of Jesus to release the immense power in your prayers. I will lead you in the right prayer in this piece that will tidy up your life when you pray in faith.
3.      The bible said in Job 6:25 "How forcible are the right words…" The right words are God's word in the mouth of a Christian believer. If you find the right words and pray it in faith, you'll receive what you prayed. If you can't find the words (or don't know how to go about it), subscribe to our free ezine "Help Me In Prayer!" and we'll walk you through. We'll pray with you and counsel you through email or whatsapp until God answers.
Prayer For Cleansing And Right Standing.
Pray this for yourself before you pray the power prayer to break the hold of the other woman.
Prov. 14:1; Psalms 103:3; Psalms 51:7-10
Jehovah God I come to you now because I'm sorry how I have lived my life. Forgive my sins and cleanse me of all unrighteousness by the Blood of Jesus.
Heal me of every imperfection sin or foolishness has caused in my life, marriage or destiny. Grant me wisdom to conduct my marital affairs with discretion and love. If there's any way I have contributed to the challenge in my marriage, help me to correct my ways. This I pray in the Name of Jesus Christ, Amen.
Have Something On Your Mind?
Do you have an experience or question you could share with the rest of us? Perhaps your prayers are working (or not working) and you want to say something about it. We would appreciate your voice on this crucial matter.
What Other Visitors Have Said
Click below to see contributions from other visitors to this page...