7 Testimonies: How Targeted Prayers Changes Cheating Husbands
"He makes wars to cease to the end of the earth; he breaks the bow, and cuts the spear in two; he burns the chariot in the fire." (Psalms 46:9)

There is no power like the power of God, particularly in changing a cheating, lying and adulterous husband.  Here, we are fully confident that targeted prayers changes cheating husbands and restore them to their families.
That is why God is called the almighty. It is in prayers that His power become available to us to change peoples, situations and circumstances. Prayer is spiritual that is why it is immensely effective in destroying diabolic and demonic powers manipulating these husbands.

However, there is the right prayers for a situation (this is what we call targeted prayers) and a right way to pray them. When these two sides are balanced, victory is sure no matter how hopeless the situation or how tough the opposition.

Testimonies are evidence of God's intervention in the challenges of life.
In this piece, I release seven of the hundreds of testimonies that flood into our mailbox as outcome of persistent partnership praying we conduct.
These testimonies are in the exact words of the writers. I had to cut out the personal details, even their countries, to conceal the identities and maintain the confidentiality I pledged. Testimonies of the efficacy of prayers come from places like United Kingdom, USA, Canada, Philippines, Trinidad and Tobago, South Africa, Nigeria, Kenya, Zimbabwe, Zambia, Malaysia, Jamaica, Germany, Australia, India and several other countries I may not easily recall now.
Many more of these testimonies are in my eBooks shown in this page. You may click the images, connect to the free reports and download the eBooks. You will certainly encounter the supernatural power in prayers as you read them.


Let us go...

My Husband Is Sweet Again.
I have been praying the prayer points every day, twice a day, and sometimes more frequently. It is not always at midnight, but as close to that as possible.
This week, my husband and I traveled together to our former home to close on the house. We were there from Monday night to Thursday night. We spent almost every moment together. He was sweet and loving and said many nice things to me. We laughed together, we celebrated together. It was really very nice, and he has asked me to accompany him on the next trip.
All of this seems very good. If I only based my thoughts on how things have been this past week, I would say that we are healed. Those prayers are result-getters. Thank you. ---R.

Block-burster and in high demand.

My Husband Is Fully Back To Our Marriage.
Hi Osita,
Just wanted to give you an update, I told you that my husband is more caring now.
On Tuesday night when he got home late he called me and asked if I would like to go to the grocery store with him, I said yes, when I got into the car he said, you smell nice then kissed me.
He had not worn his wedding ring for long. But I brought it out from the drawer and put it on the bedside table. This morning when he was leaving for work he kissed me goodbye and I noticed he was wearing his wedding ring. I was so shocked but did not say a word.
Lord Jesus thank you for confirming to me that you are working with my husband and on our marriage, I give you all the praise and glory Lord and I know we will succeed.
P.
My Husband Apologized For His Attitude And Asked For A Second Chance.
Hi, Osita.
I have some very good news I would like to share. My husband apologized just now. Here is the message he just sent me;
"I am truly sorry for all I've put you through. .....
I honestly don't deserve you…"
He's coming home to make up!
Thank you for the intercession you've been praying for us. When I asked if we should review the prayers, this must be what you meant when you said you'd intercede first then let me know.
 I've never experienced God's power in this way. Thank you for guiding me to see His power. I will continue to pray because this is only the first step.
Thank you so much, Pastor and Be Blessed.  O.

The Prayers Ended My husband's Adultery And Brought Him Back
Hi, Osita. It's been a long time. I was just driving to work this morning and testifying to someone about your help. God has been awesome. I am just writing to tell you that God has delivered my husband from adultery.
He is back home back in our marital bed. We are not physically sexually active right now but I know it's going there. I've seen signs that he's changing and he's becoming more loving towards me. He has really cut off communication with the strange woman.
Saturday night he asked me to have us try for another baby to give our son a sister. I'm so excited. God said nothing he would withhold for me as long as I love him and I see that there's nothing that God has withheld from me. I know my marriage will definitely grow better and better each day. I continue to fast and to pray and I appreciate your prayers also.
Ann.

Just released and available at a special offer.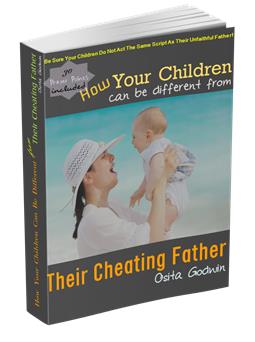 My Husband Is Loving Me Like When We First Met.
Hello Osita!,
I've been praying and have noticed a difference in me and my husband's relationship. He has way more attentive and loving and I feel like the days we've been spending have been a blessing. He has been opening up more and sharing his thoughts and dreams with me.
His love now is like when we first met and building our relationship.  He has not directly said he has been cheating. He has been telling me I'm all that he needs and he wants to take care of me and have children. I honestly think he thinks I've been cheating on him too.
I believe the prayers are working well and his heart is changing and he is going to God. 
C.

My Husband Apologized For Cheating On Me.
Hello, Osita! I must say that things have changed miraculously, no jokes. Wow, God is really good at the point that I'm speechless. So Last Friday I really went over the ebook and why my prayers weren't being answered and God revealed to me things.
On Friday, my husband texted me all day while I was away at the park alone meditating the word and just confessing to God. This was the first Friday night that he didn't go out in a very, very long time. He stated that he didn't have anywhere to go and he brought me food.
On Monday he sent me this text " I am sorry for every cheating, hurting, lying, or not being the husband u dreamed of" " I am bettering myself and  yes it will be hard at time just thx for ur patience and willingness "
I was very happy and a little relieved because it's been very hard and I thought I was going crazy.  I'm thankful for the progress and I believe that God has great things for us and thanks for being my prayer partner and for all that you're doing and your encouragements. 
T.

My Husband Ended His Affair And Has Returned To Me And God.
I wanted to share another marriage victory!! My husband came back home last Friday. He has repented of his sinful life, he asked me to forgive him. He got on his knees and asked Jesus to cleanse him from all his sins. He even told me that he loves me and he is blown away by how much I have changed!! I have prayed your power points for months!! Thank you for partnering with me in prayers. I am more than happy. He ended his sinful relationship with OW, showed me a long text he sent to her.
I wanted to ask you if you have any prayers that I can keep praying for my husband and our marriage. Or prayers that I and my husband can pray together? Oh, and we went to church together this last Sunday for Father's day, like old times. He said he wants to make things right with God and he is home for good!!! God is amazing!! He does answer prayers!!
Thank you so much Osita for being there for me and for others.
God bless you!!!
U.

Let Us Hear From You On This
If you have something to say on the power of prayer to destroy spiritual stronghold of lying and cheating, share it. I'm sure there's a lot of people out there who will learn one or two things from your story or suggestion.
What Other Visitors Have Said
Click below to see contributions from other visitors to this page...

Mrs R Taljaardt

Good day. I really hope you can help me by prayer. Me and my husband were married for almost 13 years when I found out in Aug 2016 that he was cheating …