How To Win Back Cheating Husbands With Targeted Prayers.
Why do targeted prayers quickly win back cheating husbands for many wives while others struggle and seem to be losing the battle? Some even wonder if prayers could really reform or change the immoral habits of their husbands.
This is really sad when the right application of targeted prayers would unfailingly win back cheating husbands.
I will show you in this piece how you could get Bible-based targeted prayers, and pray them to see your cheating and lying husband change faster than you imagine.
Getting Targeted Prayers That Win Back Cheating Husbands.
Targeted prayers are focused Bible-based personal petition prayers that aim specifically at recovering the unfaithful husband. The authority and power of targeted prayers is drawn from the mind of God expressed in His Word.
Once you find what God said concerning a cheating and lying husband, you have a winning prayer because God is committed to fulfilling His Word when you make a demand in prayer. The best part is that God wants you to win back the cheating husband. So, if you didn't get what you prayed for then you really didn't pray.
It's as simple that.
Yet I will make it simpler so that your targeted prayers would produce amazingly for you.
Key To Using Targeted Prayers Effectively.
Proper diagnosis of any condition is half the cure in both physical and spiritual matters. Absence of correct diagnosis is the main cause of frustration in prayers to win back cheating husbands.
Indeed the gifts of word of knowledge, discerning of spirits and interpretation of tongues (1 Corinthians 12: 8-10) are all spiritual diagnosis provided by God.
Diagnosis And Targeted Prayers For Cheating Husband.  
I have grouped cheating husbands into three so that targeted prayers could be focused to full effect.
1.     Hidden and Covered-up Cheater. This man hides his affair from his wife or other persons by all means possible.
The Prayer Point (Taken from Prayer Listing 27)
Prov 6:24 To keep thee from the evil woman, from the flattery of the tongue of a strange woman.
Lord, I block every voice that mysteriously calls my husband out to meet the strange woman or other immoral partners. Let every such voice in the spirit and in the physical be dumb and call him no more.
Other direct prayers for this group are numbers 14; 30; 42 and 57 from the eBook.
2.    Insatiable, Opportunist Cheater.

This man is an anything-goes cheater, usually influenced by alcohol or drugs. He's often a heavy porn or dating services user.
The Prayer Point (Taken from Prayer Listing 32)
Prov 20:1 Wine [is] a mocker, strong drink [is] raging: and whosoever is deceived thereby is not wise.
Lord, help my husband overcome the spirit of alcoholism and drugs that make him misbehave and do immoral things. Frustrate and cancel all peoples, occasions and events that open him up to alcohol, drugs and cheating.
Other direct prayers for this group are numbers 31; 38; 51 and 56 from the eBook.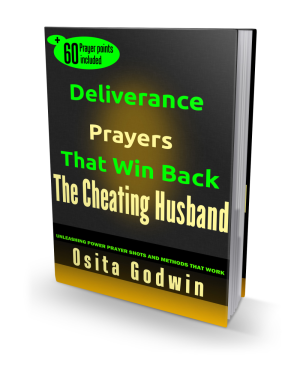 3.     Runaway, Unapologetic Cheater.
This type of cheater admits his affair (which is no longer secret to his wife). He claims he is happier with the strange woman and often blames the wife for his behavior. This marriage is severely threatened with a divorce but also the easiest to recover by targeted prayers.
The Prayer Point (Taken from Prayer Listing 49)
 Gen 20:3 But God came to Abimelech in a dream by night, and said to him, Behold, thou [art but] a dead man, for the woman which thou hast taken; for she [is] a man's wife.
 Father, I plead the Blood of Jesus for my husband's change and for his return to me according to your promise. Let him and the strange woman keeping him have no rest until he faithfully returns to me. Let fire from Heaven burn any hidden diabolical influence trapping or tying him to that woman. I believe it is done as I pray in the Name of Jesus Christ.
 Other direct prayers for this group are numbers 58; 60; 64; 73 from the eBook.
Consistent targeted prayers usually produce turnaround changes in husbands within days and eventually win back the cheating husbands in a very short time.
Prayer Changes all Things.
Do you have a question, story or testimony about using prayers to change the cheating husband? We'll like to share what you have to say.
What Other Visitors Have Said
Click below to see contributions from other visitors to this page...