Free Prayers That Stop Your Husband From Cheating.
I would like to show you a direct way to stop your husband from cheating using targeted powerful prayers. When I say targeted, I mean the right kind that produces the expected result.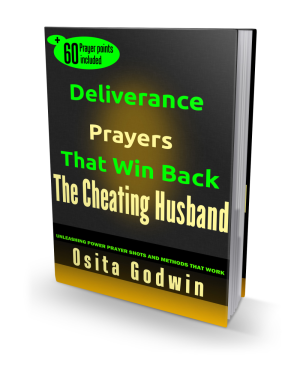 First, get this understanding. Prayer is powerful and effective because of the following.
Targeted prayers usually open your eyes or lead you to a connection to release divine wisdom which shows you what to do to stop your husband from cheating.
It is important to mention that 'powerful prayers' doesn't always mean instant answer. It means victory for you is inevitable, eventually…ultimately.
---
Establish The Victory Mentality.

Now that you have that understanding, you will be taking away four targeted power prayers that could stop your husband from cheating on you.
How do you know when you hit the right prayer key? One of these two broad things should happen as you pray.
Your cheating husband will become uncomfortable, feel guilty, even upset or antagonistic at everyone on his path.

He may show more affection towards you, or become withdrawn and aloof.
Any of those signs are good! It should encourage you to pray those prayers more. If you pile these prayer pressure, the hard nut will crack and you'll be happier for it.
Prayer Points To Stop Your Husband From Cheating.
Prayers For Husband Salvation And Deliverance.
John 6:44 No man can come to me, except the Father which hath sent me draw him.
Lord, I pray you touch and draw my husband to worship, obey and serve you all the days of his life. Lord, speak to him in the language and method he cannot refuse or resist. Change his taste, his thoughts, his friends and acts; make him a new and different man to be marveled at. Lord, give him the grace to show godly example and leadership in the family. Thank you, my father, for the quick job you have started because I pray in Jesus name.
Prayer Against The Spirit Of Lust In Your Husband.
Ps 129:4 The LORD [is] righteous: he hath cut asunder the cords of the wicked.
Lord, I cast out the spirit of the womanizer in my husband that makes him seek woman after woman. Let the unclean spirit that makes him want to experiment and sample sex with every female be expelled in Jesus Name.
Prayer Against Enchantment of The Of The Strange Woman.
Prov 2:16 ​​​​​​​…to deliver you from the adulteress, from the sexually loose woman who speaks flattering words.
I command the dismantling of anything the strange woman is using on my husband to make her irresistible to him. I command those evil arrangements to melt and evaporate in Jesus Name. Lord, let every art or science of seduction and lust deployed by the strange woman to captivate my husband become meaningless and powerless.
Prayer For Wisdom For Reconciliation in Marriage.
Jas 1:5 – 6  ​If any of you lack wisdom, let him ask of God, … and it shall be given him.
Luke 18:1 … men ought always to pray, and not to faint.
Lord teach me wisdom on what to say and do with my husband to win him back. Remove from me the spirit of bitterness, malice, argument and rancor. Grant me patience, love, maturity and forgiveness in relating with my husband.
Lord, impart me with divine strength so as not to faint or be discouraged in seeking the healing of my marriage.
Remember this, if you ever pray...pray to win.
There's much more to help you here.

How To Fast-Forward Your Prayer Results.

There is one important point to note as you pray to stop your husband from cheating on you. If you notice a dramatic rise in affection or aggression (yes) from him, bravo! Your prayers are penetrating…working. And what do you do when prayer is working, and you want more of the result? Of course you repeat, intensify, escalate…
The more regularly you pray these targeted prayers, the quicker his change from cheating and immorality. Read the full report on getting more targeted prayers and praying them effectively here.
Are You Set To Pray Right?
Are you just mumbling words in the name of prayer? Do you really know how and what to pray? Have you become weary of prayer because you can't see the difference between those who 'pray' and those who don't?

Whatever your experience or thoughts, we'll like you to share them here. Give help, receive help!
What Other Visitors Have Said
Click below to see contributions from other visitors to this page...