How Prayer Makes Cheating Husband Come Back.
 

But the natural man can not receive the things of the Spirit of God: for they are foolishness unto him: neither can he know [them], because they are spiritually discerned. -

1Cor 2:14
Many people have funny ideas and even doubts about how prayer makes cheating husband come back and be faithful to his wife. They already have a mindset of what prayer is and how it is supposed to be answered. So when their expectations fall short, they give up.
I often have to deal with this matter of how a cheating husband changes and returns to his wife as a result of prayer. Sometimes it is asked out of need-to-know but most times it is an indication of doubt and disbelief.
Whichever is the case, it shows lack of understanding in spiritual things.
The immense power you release in prayer is able to reform the unfaithful husband because basically cheating is not a physical thing. It's just a display of the goings on in the mind. That makes cheating an inside job too.
Prayer makes cheating husband come back by altering the spiritual load. When the spiritual side of anything is changed, the physical side falls into place quickly. The major struggle of many is they imagine the physical side of things as all that there is. Nothing can be as erroneous as that.
For example, in Job chapter 1, the accidents, natural disaster, robbery that befell Job's household were all from Satan (in the spiritual). In Chapter 2 verse 7, "So went Satan forth from the presence of the LORD, and smote Job with sore boils from the sole of his foot unto his crown". This fact is seen through all the scripture, even in this age.
Now another area of misunderstanding is what prayer really is…and what it's not. If ever you have prayed and not received what you prayed for, then you did not really pray!
Let me modify that statement a little…
If you prayed and didn't get any answer from God, you didn't pray the Bible prayer. It's as simple as that and it should nudge you to seek understanding (Prov 4:7 …and with all thy getting get understanding).
Quietly Demonstrate The Power Of Prayers To Change The Cheating And Lying Husband.
Take Your Weapon From This eBook...First, Take A Peep Inside.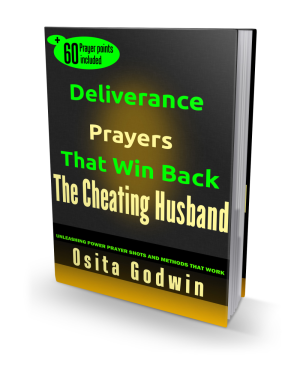 How To Pray, When To Pray, And What To Pray...
To Turnaround The Cheating And Lying Husband.

How Prayer Makes Cheating Husband Come Back.
There are two main methods through which God answers prayers, generally.
He intervenes directly, shifting things and people until you are favored.

He gives you instructions (we call it revelation) so that you can do things differently.
If God didn't answer by the first (direct intervention), he's likely asking you to do something. Revelation is the major way prayer makes cheating husband come back faithfully to his wife.
When God wants you to do something to bring your unfaithful husband back, you do it whether it is inconvenient, unfair, 'done-before' or not. That's the seed of the fruit you want! If you reject the seed, the fruit is lost too.
Why Does God Answer People Differently?
Really God does not answer people differently on a similar case; but in many instances people and their circumstances differ, so the reach will not be the same. The prayer that makes many cheating husbands come back changed cannot be answered same way because there are so many factors involved. But one thing is sure, everyone who prays according to the mind of God gets answer of peace.
When you pray concerning your cheating husband, God is likely to tell you one of these.
Wait, it's being worked out (keep praying, thanksgiving, positive declaration).
See what, or where, the root of the matter is.  (calling for a change of prayer point because there is more to this cheating you didn't know).
Connect or lead you to a prayer coach or partner for more fruitful prayer. (Hey, this could be why God brought you this way – we could be praying for you or you learning from us. Why not subscribe to the free ezine "Help Me In Prayer!").