Congratulations!               
I'm glad you ordered Deliverance Prayers That Win Back The Cheating Husband…                      
I will lead you to your copy of the eBook down this page. But before then, please, consider what I am about to say.  It will only take a few minutes.  
The eBook is delivered in the PDF format. You should have no problem opening it. 
The first thing I want you to do is to save it so that you don't lose it due to system malfunction or deleting it by mistake. Many women have also printed out a copy for ease of use and preservation.
The link to the eBook will be open to you for 7 hours before it will be withdrawn and you will no longer be connected to the eBook through that link. So, please, download and save your eBook immediately.
For me, I want you to be among the group that found the book very helpful in the change of their husband and recovery of their marriage. So, I will be available to guide you and answer all your questions.

I need to hear your testimony soon. If you follow all I have written in the eBook, you will have the same happy reports many women have shared from across the world. This is not difficult if you can make required investment of your time to pray.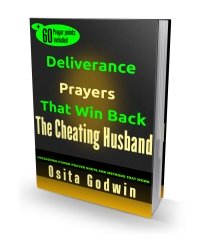 Take the prayers seriously and the power of God shall work excellently and turn your husband away from immorality to faithfulness and responsibility. Your voice would be heard.
If you are not already a subscriber to 'Help Me In Prayer!' Ezine, you may consider being one by completing the form on the right of this page. It's free and will entitle you to e-prayer partnership and guidance from me.
You may reach me through the email address below.
You shall succeed.
Now click HERE to access your copy of Deliverance Prayers That Win Back The Cheating Husband.
Osita.
www.marriednation.com

email: prayerebook@marriednation.com